Reina Crawford is a singer, praise & worship leader, and choir director from Oakland, Ca, that loves any and all things music related – including skillful tambourine playing. We talk about some of the crazy stuff she's seen growing up in church, including a medical emergency one Sunday morning that could have been completely avoided.
Connect with Reina Crawford
This episode is sponsored by
Churchy Life Gear – your new home for funny Christian t-shirts, graphic Christian tees, and more fun Christian apparel. Check out all-new and original Christian shirt designs from the creator of Church Funny and Churchy Life. Get 25% off your entire order with promo code 'CHURCHYFAM2025'. Just copy/past the code during checkout at churchygear.com
ChurchyDate.com – the best new dating site for single Christians who believe in connecting through Faith, Laughter & Love. Find a meaningful relationship, using their uniquely churchy profile and matching criteria. Get a free month of premium membership with promo code 'CHURCHYLIFE'.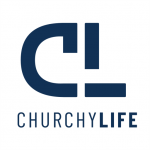 Churchy Life is a digital media platform, that celebrates being a Christian, living a Christian life, and everything that comes along with it. The fun, the music, the fellowship, the stories - Churchy Life is bringing it all to the forefront in exciting new ways.