Our guest this week is Benjamin Jones – an up-and-coming Christian comedian, with some super funny videos across social media. He's also a dope musician, singer/songwriter, and full time praise and worship leader. Of course he brings us some hilarious church stories, including a time when he had to fervently seek God for a porcelain throne.
Connect with Benjamin Jones
This episode is sponsored by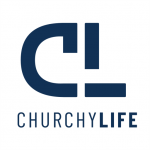 Churchy Life is a digital media platform, that celebrates being a Christian, living a Christian life, and everything that comes along with it. The fun, the music, the fellowship, the stories - Churchy Life is bringing it all to the forefront in exciting new ways.