Writing the vision, and making it plain
You may be reading this without any context around what Churchy Life is, or even what "churchy" means in general. So let's start with churchy: it's a colloquialism that we, the folks who grew up in church, use to identify our displayed behaviors and mannerisms that only we understand. It describes a subculture of Christianity that really equates to a way of life. We've got our own words, phrases, movements, looks, inside jokes and shared experiences that churchy folks everywhere will universally understand.
The main idea behind Churchy Life is to celebrate and share all of the churchiness we know and love. Whether it be through funny videos, skits, plays, shows, interviews, musical performances, or movies – Churchy Life is creating a digital media platform for Christian Entertainment that encompasses it all and more.
The Ideas Behind the Vision
As a little background, I created the social media presence Churchy Funny around the end of 2012 to share some funny christian memes that I created on my personal Instagram account. After a few posts, the account lay dormant until around 2014 when I started posting again with renewed interest. It was mostly a way to bring church folks together through the funny shared experiences we all had growing up, and the account quickly took off and grew in popularity.
The idea began to expand as I wanted to be able to share gospel music and other things with my audience, but it didn't all necessarily fit under the umbrella of "Church Funny".  The pivotal moment that created the Churchy Life brand and company came around 2018.
As background to the background (stick with me, I'm going somewhere here), I'm a software engineer (aka: nerd), and have always been ahead of the curve on tech stuff. If you're not familiar with the term "cord cutter", it's primarily someone who has abandoned traditional TV (cable, satellite, etc) in favor of other things (apps, Netflix, etc). While this has been a pretty recent and growing phenomenon, I've been living like this since around 2008. I've had my own home media server with all my movies, videos, shows, etc. since then. I literally, over the course of a week, went though all of my DVDs and a lot of VHS tapes, digitized them, and loaded them on my personal server, which in turn is accessible wirelessly on any device in my home.
Among this digitized content, was all of the gospel concerts that I've collected over the years – Kirk Franklin & The Family, John P. Kee, Hezekiah Walker, Fred Hammond & RFC, and Commissioned. That Commissioned reunion DVD should have been completely worn out from the amount of times that it served as my nightly soundtrack back in the day. Fast forward to 2018, and my son and daughter are both the biggest little Commissioned fans on earth. They watch the reunion concert just as much as I ever did… they watch it almost every night.
Solving My Own Problem
I began to internally complain that all of those awesome, recorded gospel concerts and DVDs don't really show up anymore. My kids love this stuff just like I do, and I want to introduce them to more. There's some stuff on YouTube, but it's pretty all over the place and inconsistent. I said "somebody needs to make a digital platform where we can see all the old concerts on demand… and even new concerts… and maybe some original shows and content, like Church Funny type of stuff and…"
I realized that I was the somebody I was talking about. I'm a software engineer, so technically I can build the platform. I had built this large social media following around Christian content, so why wouldn't I be the one to bring these two worlds together. I went into Evernote, and discovered that a few years back I had already detailed a bunch of show ideas for what I was calling "Church Funny TV", and I started expanding on those ideas, and adding other ones. Shows around music, and independent artists. Shows that will help enrich the lives of and minister to people. Shows that would bring important issues to light that typically get swept under the rug in the church world. Funny content. Healing content. Touching and controversial content. Varied, yet narrowly focused content, all centered on bringing clarity to the perception of what it really means to be a Christian.
It's the struggle of living holy, and still having a ridiculous amount of fun. It's the joy of friends, relationships and families. It's the pain of internal struggles, and misunderstandings. It's the immense creativity and musical excellence. It's strict upbringings, and then discovering freedom. It's hilarious and relatable stories of church life, and living a real life in Christ.
This is Churchy Life.
Alright, so that was a lot… but Churchy Life is just getting started. Work on the platform and curating the content is underway! We've launched a few endeavors to help raise some capital for the company – primarily Churchy Gear (Feb. 2020), Churchy Date (Valentine's Day 2019), and the Churchy Life Podcast (Sep. 2019). Of course, the podcast has a dual purpose, as it's the exactly the type of content Churchy Life is working towards producing, and soon we'll have some paid sponsors helping us produce more content.
If you love the ideas behind Churchy Life and what we're trying to accomplish, we'd love your support – just by following us across social media, subscribing to our content, and sharing what we're doing online with your friends and family. With your help, we're going to build an awesome movement and an incredible company.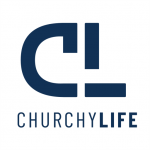 Churchy Life is a digital media platform, that celebrates being a Christian, living a Christian life, and everything that comes along with it. The fun, the music, the fellowship, the stories - Churchy Life is bringing it all to the forefront in exciting new ways.